Skip to end of metadata
Go to start of metadata

Unable to render {include}
The included page could not be found.
How to use calendar to edit forms
In order to approve a leave request click on the date on one of the days of the leave request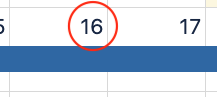 This loads all the requests on that day to the right of the calendar.  Click on the appropriate option in order to approve the requested leave.
Click to View 

EOTC Day Excursions
---
EOTC Overnight & Overseas Excursions
---